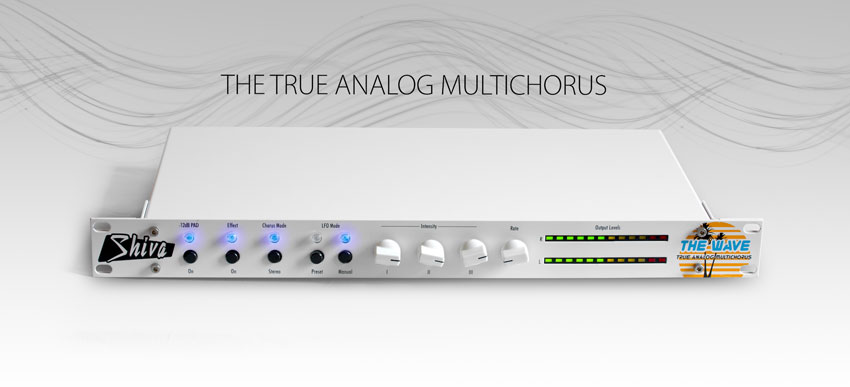 Shiva THE WAVE True Analog MultiChorus
I met Luca a few years back. His tremendous passion for guitar sounds and electronics knowledge immediately made clear we spoke the same language. It just clicked.
We exchanged opinions and ideas about the classic Dyno My Piano TriStereo Chorus, while I was working on one of my digital replicas algorithms for the Eventide platform, in a hot summer afternoon.
Luca knew right away he had to do it! And by no means it could be a "guess how it's done" job! He jumped on an expensive Dytronics CS-5 sample off Ebay and started working on it. The man spent countless hours, days and nights, on the motherboard and recreated a prototype with he same exact layout and parts… including a few quirks and imperfections from the original design.
A true work of love and madness like only those who know can understand.
Finally Luca got it! The spectacular rich chorus sound from the late '80s/early '90s was back, alive and kicking like yesterday.
Luca travelled thru time and brought back a spectacular *exact* audio image of the original Tri Stereo Chorus, now available to all those die hard fans who have been going mad for over 2 decades finding an original unit for crazy money and often beaten-up by use and time. As a major plus a nice cosmetic update was the next step for Luca; he gave this classic unit a new modern look, keeping the original U.I. layout intact.. and adding the cool southern California palm trees and sun on the front panel. The original unit design is pretty ugly and cheap. The unit really needed to grow in aesthetics, while keeping the original sound intact.
My first minute with THE WAVE was very emotional! I didn't want to spend any real time with the unit BEFORE it was ready and waited for the moment with patience and high hopes, while Luca was making his life hard on this project.
Finally there I was… with the original CS-5 and THE WAVE!
Listened to the first, then to the second… A/B 'em… tweaked pots a bit and looked at Luca… "it sounds even better 'cuz the electronics are new!"… wish I had a hi-res sample of a brand new TSC from 25 yrs ago! Luca *nailed* the bastard!
The L.A. chorus tones from the studio scene is back! You wanted, you waited, you now have it! This is a true work of love and the result is an amazing unit built by an artisan, handmade in northern-east Italy, a land known for its strong entrepreneurial culture goin' back to Marco Polo and the Republic of Venice.
I'm happy this unit is here and proud of Luca. He deserves high credit and success for his future. Bravo Luca!
Now it's your turn, folks! Meet Luca and THE WAVE here: http://www.shivaaudio.com.